SEE WHAT LOVE THE FATHER HAS GIVEN US (2012)
Three electronic store employees travel through tiers of reality taking on aspects of the Holy Trinity in this religio-dramedy. See What Love... looks at the ways in which the triad and the Trinity influence the way we love in the Western World. Ray is a Circuit City employee, The Father and an emanation of Ra, who must contend with Rex, the white icon of Christ, a co-worker. Ray vows Rex's destruction, mocks and seduces him, wrestles and heals his animal body, as Rex struggles with the split between his expansive love and violent rage. Smoke, the Holy Spirit, is an androgyne, boss, lost soul, spring lamb, disciple of Oshun and Baron Samedi, whose presence shifts the relationship between Father and Son.
EXCERPT
RAY
(To an Apostle.)
Then one day I went walking...I cam upon the Holy Spirit crying on a road. I said, 'Holy Spirit why do you cry?' He said. (SMOKE mouthing her words.) 'Magic is existence, utterly.' Yes, there are those who are compelled to the Spirit, as the world is like a carcass to them, and they leave it.' I said, 'Do you need a home? Then follow me.' And so we went up to the mountains. We drank and sang. I think I might have gotten pregnant. I'm not sure but things happened afterward that made me think that I had. This boy appeared. He worked at the same company as me, claiming to be my son. As he had a sad face, I took him in. He grew. And it soon became apparent that he was of me. I saw his face staring back at mine; we seemed to know. He became a handsome white man. One day he said:
REX
The scariest thing would be to have someone else inside you.
RAY
And I said: 'But I had you inside of me.' This disturbed me, that I had voiced this when all I wanted to do was love my child. But I couldn't love him because he....had...I don't want to think about it.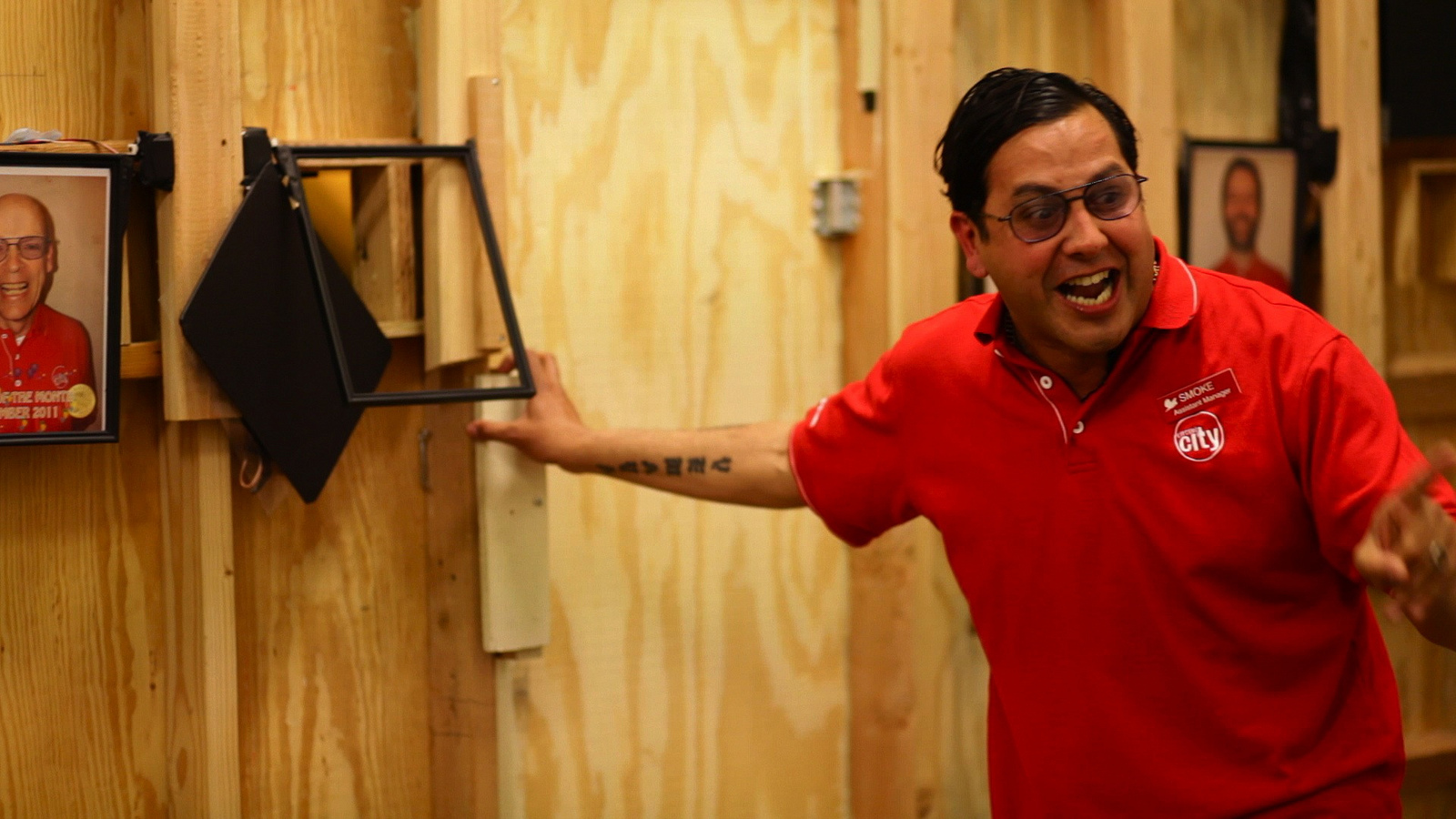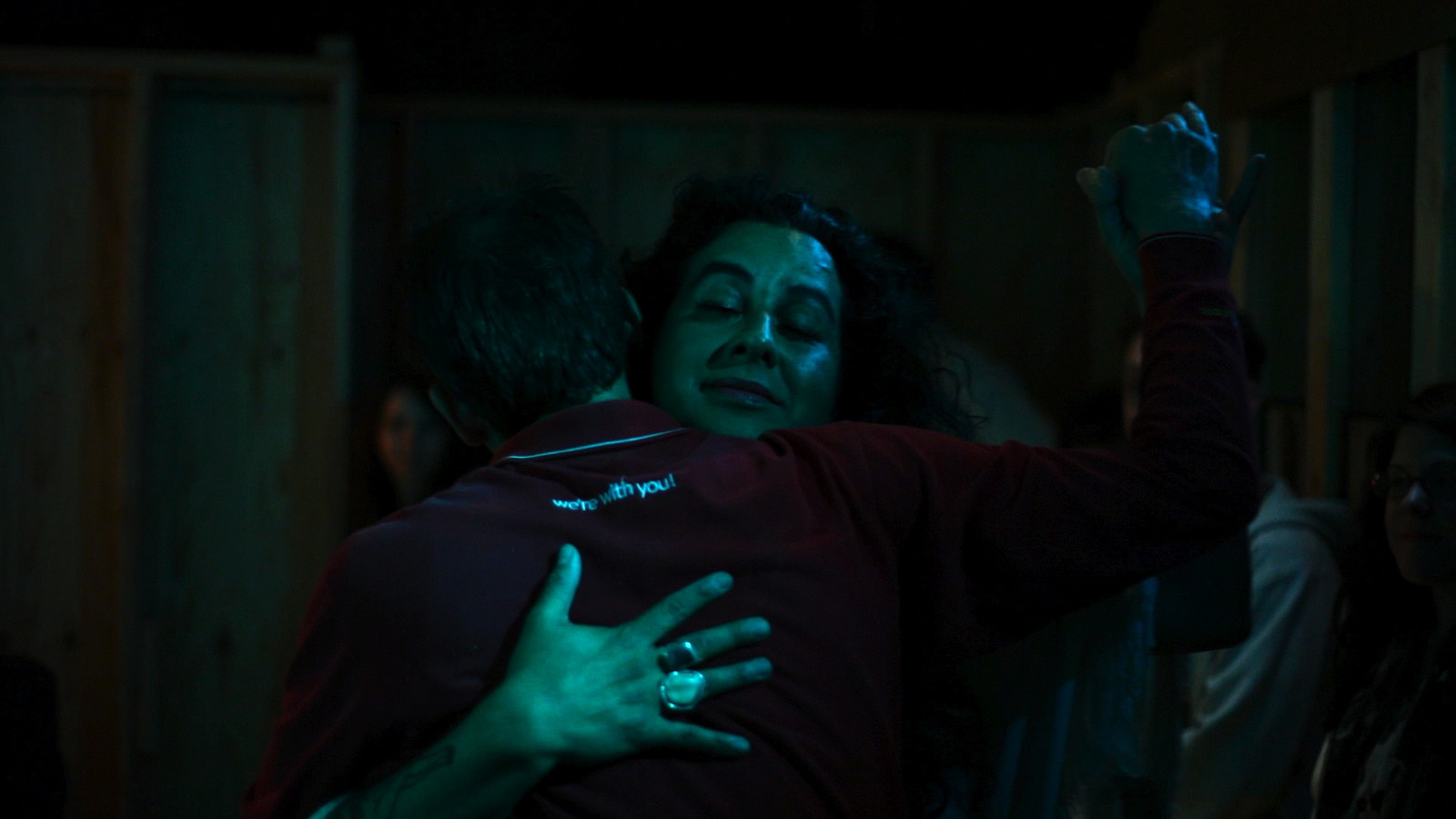 Written and directed by Asher Hartman
Assistant directed by Haruko Tanaka

The Cast
SMOKE, A boss, Marcus Kuiland-Nazario
REX, An employee, Joe Seely
RAY, An employee, Jasmine Orpilla
ALIEN, Franc Baliton
ALIEN, Michael Morrissey
SHARON, A Plant

DRY GOODS MANIPULATION SPECIALISTS:
Jean Burdelle, David Eng, Corey Fogel, Caroline Kim,
Chelsea Rector and Guan Ron

The Creative Team
Original Musical Score and Sound Design, Jasmine Orpilla
Special Effects and Lighting, Chris Weisbart
Specialty Props, Set Pieces and Masks, Joe Seely
Dance Choreography, Carol Guidry
Stage Manager, Johanna Reed
Sound Supervisor, Chris Candelaria
Poster and Program Design, Haruko Tanaka
Video by Emily Lacy
Photography by Marianne Williams

Special thanks to Mark Allen and Machine Project, Emily Lacy and Nate Page
Performances
See What Love The Father Has Given Us was presented at Machine Project from March 29-April 24, 2012.