PURPLE ELECTRIC PLAY (2014)
In a mix of black light theater and black magic, PEP! follows two underground entertainers, The Vital Organs and TheStar, as they step in and out of rough and ridiculous political histories, assisted by their pals, The Audience, four naive and playful puppets, Lo-Phat, Donkey, Salad Bar and Starvation, luring their live audience deeper into the morass of questions and confrontations that arise from memories of injustice and revolt. PEP! explicitly leverages an audience's expectation of diversion and excitement to explore the relationship of the creative class to privilege and power, both as resistors and provocateurs.
THE STAR
(To the audience)
Have you ever dreamt of Corday?
Her moderate resolve?
That steady hand?
Wouldn't you too like to make the slit
In the heart of the Giant,
The Paranoiac,
The Crowd?
Goliath of indifference
Monster of Dull intonations
Clammy predictable Death
The Beast in a monosyllable proffers?
The STAR steps toward the lip,
dropping character,
Philip.

THE STAR
(X into house)
I pretend to love the world out of a great
shame that I do not.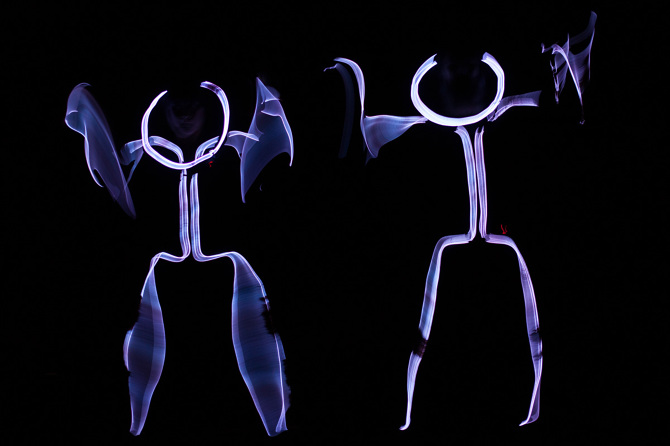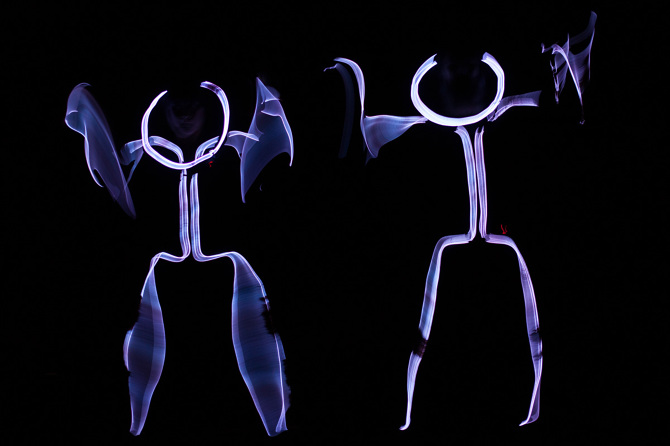 Written and directed by Asher Hartman
Assistant directed by Caroline "Zut Alors" Kim
The Cast
Philip Littell as "The Star"
Jasmine Orpilla as "The Vital Organs, Agent"
Kalean Ung as "The Vital Organ, Control"
Joe Seely as "The Audience"
Drew Thataussie as "Songbird"
Chelsea Rector as "Mad Shadow"

Candice Lin, "People are the problem" triptych
Aubree Lynn, Scenic Designer
Ellen McCartney, Costume Designer
Jasmine Orpilla, Composer
Joe Seely, Theater design, properties, construction
Rose Strasen, Costume construction
Ken Weiler, Composer
The Creative Team
Patrick Ballard, Artist and creator of large puppets
Winona Bechtle, Stage Manager
Chris Candelaria, Sound Supervisor
Nina Caussa, Scenic Designer
Adam Frank, Lighting Designer
Carol Guidry, Choreographer
Andrea Galdámez, Backstage Traffic Director
Chance Happenstance as Himself
Photography by Marianna Williams
Video by Ian Byers-Gamber
 
Performances
Purple Electric Play (PEP!) was performed at The Mystery Theater at Machine Project from October 30, 2014 - January 18, 2015.
PEP! in the Press
"Asher Hartman"
By Tracy Jeanne Rosenthal for Art in America, March 20, 2015
"Asher Hartman's Ritualistic Marathons"
By Alicia Eler for art21, February 11, 2015
"Asher Hartman with Carol Cheh"
By Carol Cheh for Coronagraph, February 2015
"10 Best L.A. Art Experiences of 2014"
By Catherine Wagley for LA Weekly, December 17, 2014
"Asher Hartman and the Puppets of Revolution"
By Matt Stromberg for Hyperallergic, December 15, 2014
"The Ecstasy of Ambiguity: Asher Hartman's Purple Electric Play"
By Sue Bell Yank for KCET's Artbound, December 9, 2014
"You Say You Want A Revolution...Asher Hartman's Purple Electric Play! is shaking up LA's cultural class 17 people at a time"
By Michael Willoughby-Lalague for nudemolemag.com, November 2014
"Asher Hartman's Purple Electric Play"
By A. Wolfe for alphasixty, November 11, 2014
"Playwright-Psychic Asher Hartman's New Work Combines French Revolution With Food Puppets"
By Catherine Wagley for LA Weekly, October 31, 2014